Answer
Hallmarks of ultrasonography include the target and pseudokidney signs. (See the image below.)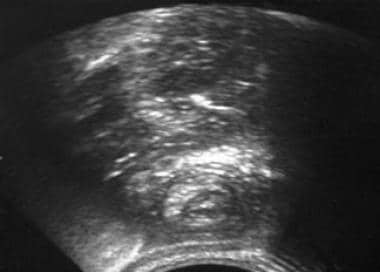 Abdominal ultrasonography reveals the classic target sign of an intussusceptum inside an intussuscipiens.
One study reported that the overall sensitivity and specificity of ultrasonography for detecting ileocolic intussusception was 97.9% and 97.8%, respectively. The authors concluded that ultrasonography should be used as a first-line examination for the assessment of possible pediatric intussusception. [22]
Ultrasonography eliminates the risk of exposure to ionizing radiation and can help to depict lead points and residual intussusceptions. It also helps to rule out other possible causes of abdominal pain. Even so, ultrasonography is highly operator dependent; therefore, interpret results with caution.
The presence of ascites and long segments of intussusception can be used as sonographic predictors of failure for nonoperative management. [23] Sonographic detection of ascites, air, and absence of blood flow in the intestinal wall strongly suggest bowel gangrene.
---
Did this answer your question?
Additional feedback? (Optional)
Thank you for your feedback!