Answer
After obtaining a thorough history and performing a careful physical examination, obtain plain radiographs of the abdomen with the patient in the supine and upright positions.
Plain abdominal radiography reveals signs that suggest intussusception in only 60% of cases. (See the images below.) Plain radiograph findings may be normal early in the course of intussusception. [19] As the disease progresses, the earliest radiographic evidence includes an absence of air in the right lower and upper quadrants and a right upper quadrant soft tissue density present in 25-60% of patients.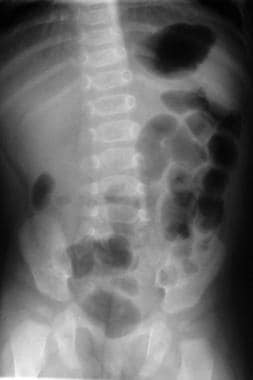 Abdominal radiograph shows small bowel dilatation and paucity of gas in the right lower and upper quadrants.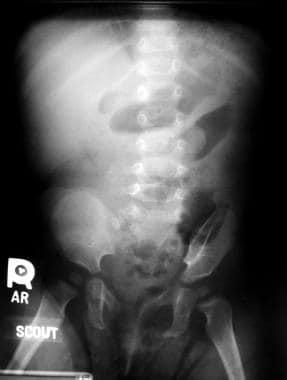 Note intussusception in the left upper quadrant on this plain film of an infant with pain vomiting. Courtesy of Kelley W Marshall, MD, Children's Healthcare of Atlanta, Emory University School of Medicine.
These findings are followed by an obvious pattern of small bowel obstruction, with dilatation and air-fluid levels in the small bowel only. If the distention is generalized and the air-fluid levels are also present in the colon, the findings more likely represent acute gastroenteritis than intussusception.
A left lateral decubitus view is also helpful. [20] If the view exhibits air in the cecum, the presence of ileocecal intussusception is highly unlikely.
---
Did this answer your question?
Additional feedback? (Optional)
Thank you for your feedback!