Answer
The goal of surgery for patients with GERD is to reestablish the antireflux barrier without creating obstruction to the food bolus. In general, the Nissen fundoplication (shown in the image below), which is a complete 360° wrap, best controls the symptoms of gastroesophageal reflux. [22] However, this technique may lead to more episodes of dysphagia (swallowing difficulty and discomfort) and gas bloat than would a partial wrap.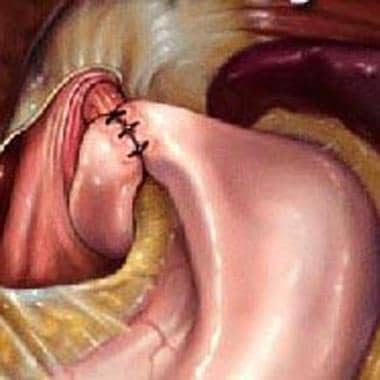 Illustration of the Nissen fundoplication. Note how the stomach is wrapped around the esophagus (360-degree wrap).
Before operative intervention, patients should be evaluated with a thorough history and physical examination and the results of medical treatment (nonoperative therapy) should be well documented. In infants and young children, performing an upper GI series (upper GI contrast study) prior to the performance of fundoplication is advisable in order to rule out other possible pathologies that may be causing emesis.
---
Did this answer your question?
Additional feedback? (Optional)
Thank you for your feedback!