Answer
Intraluminal esophageal electrical impedance (EEI) is useful for detecting both acid reflux and nonacid reflux by measuring retrograde flow in the esophagus. Gastroesophageal reflux episodes as brief as 15 seconds may be measured. (See the image below.)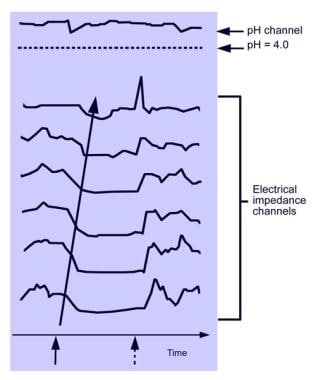 The image is a representation of concomitant intraesophageal pH and esophageal electrical impedance measurements. The vertical solid arrow indicates commencement of a nonacid gastroesophageal reflux episode (diagonal arrow). The vertical dashed arrow indicates the onset of a normal swallow.
In adult studies, impedance measurements have been used in conjunction with 24-hour intraesophageal pH monitoring in order to provide a more complete picture of bolus movement in the esophagus.
EEI has not been thoroughly validated, and normal values have not been determined in the pediatric age group.
---
Did this answer your question?
Additional feedback? (Optional)
Thank you for your feedback!