Answer
Surgical intervention such as gastrostomy or fundoplication (see the image below) is required in only a very small minority of patients with gastroesophageal reflux (eg, when rigorous medical step-up therapy has failed or when the complications of gastroesophageal reflux pose a short- or long-term survival risk). The goal of surgical antireflux procedures is to "tighten" the region of the lower esophageal junction and, if possible, to reduce hiatal herniation of the stomach (occasionally seen in patients with gastroesophageal reflux disease).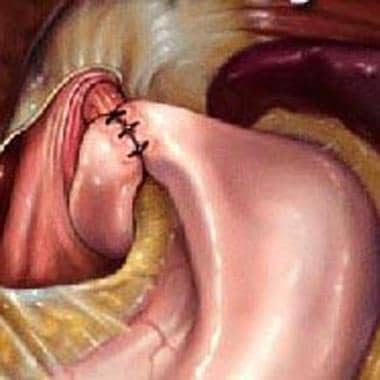 Illustration of the Nissen fundoplication. Note how the stomach is wrapped around the esophagus (360-degree wrap).
See Treatment and Medication for more detail.
---
Did this answer your question?
Additional feedback? (Optional)
Thank you for your feedback!