Answer
Anorectal manometry can be useful in discriminating between functional constipation and Hirschsprung disease. A balloon catheter is inserted into the rectum during this test. Normally, when the rectal balloon is inflated, the internal anal sphincter relaxes reflexively (anorectal reflex), as is shown in the image below.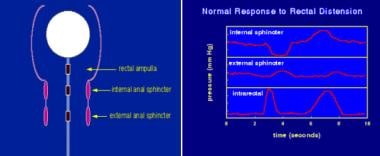 The images illustrate normal anorectal manometry with relaxation of the internal anal sphincter in response to rectal distention.
Among patients with Hirschsprung disease, the internal anal sphincter fails to relax in response to rectal distention. As many as 20% of healthy children may have a falsely absent reflex, especially if they were born prematurely or with low birth weight; however, a positive response is strong evidence against Hirschsprung disease.
---
Did this answer your question?
Additional feedback? (Optional)
Thank you for your feedback!