Answer
For practical clinical purposes, constipation is generally defined as infrequent defecation, painful defecation, or both. In most cases, parents are worried that their child's stools are too large, too hard, not frequent enough, and/or painful to pass.
The North American Society of Gastroenterology, Hepatology, and Nutrition (NASPGHAN) defines constipation as "a delay or difficulty in defecation, present for 2 weeks or more, and sufficient to cause significant distress to the patient." [3]
The Paris Consensus on Childhood Constipation Terminology (PACCT) defines constipation as "a period of 8 weeks with at least 2 of the following symptoms: defecation frequency less than 3 times per week, fecal incontinence frequency greater than once per week, passage of large stools that clog the toilet, palpable abdominal or rectal fecal mass, stool withholding behavior, or painful defecation." [4]
The following image is an abdominal radiograph of a child with constipation.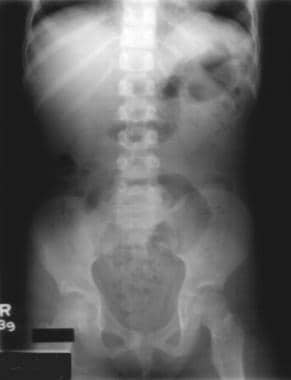 Plain abdominal radiograph that demonstrates stool throughout the colon.
See also Constipation and Surgery for Pediatric Constipation and Bowel Management.
---
Did this answer your question?
Additional feedback? (Optional)
Thank you for your feedback!