Answer
The shoulder is forcibly forward flexed and internally rotated, causing the greater tuberosity to jam against the anterior inferior surface of the acromion.
Pain reflects a positive test result and indicates an overuse injury to the supraspinatus muscle and possibly to the biceps tendon. See the image below.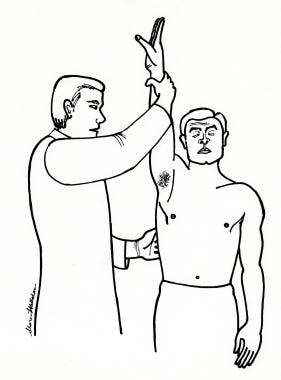 Neer impingement test. The patient's arm is maximally elevated through forward flexion by the examiner, causing a jamming of the greater tuberosity against the anteroinferior acromion. Pain elicited with this maneuver indicates a positive test result for impingement.
---
Did this answer your question?
Additional feedback? (Optional)
Thank you for your feedback!