Answer
The etiology of IBD is poorly understood. Genetic and environmental influences are involved in the pathogenesis. IBD may present either as UC or as CD. Indeterminate colitis is a term to describe a chronic idiopathic colitis that cannot be separated based on conventional diagnostic modalities to either Crohn colitis or ulcerative colitis.
A study by Starr et al sought to identify proteins that enable differentiation between CD and UC in children with new onset IBD. The study found two panels of candidate biomarkers for the diagnosis of IBD and the differentiation of IBD subtypes to guide appropriate therapeutic interventions in pediatric patients. [5]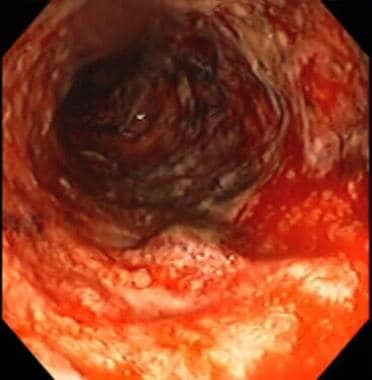 Inflammatory bowel disease. Severe colitis noted during colonoscopy. The mucosa is grossly denuded, with active bleeding noted. This patient had her colon resected very shortly after this view was obtained.
UC is characterized by inflammation and ulceration confined to colonic mucosa, whereas CD is manifested by transmural inflammation and granulomas that may affect any segment of the GI tract, including the colon. UC invariably involves the rectum and extends proximally without skipping segments. In contrast, CD has discontinuous patchy involvement of the GI tract, with the ileum being the most commonly affected segment.
Growth failure results from malabsorption and loss of proteins from inflammation and damage to the mucosa; it is 3 times more likely to occur in children with CD than in children with UC.
The diarrhea also results from mucosal damage, bile acid malabsorption, bacterial overgrowth, and protein exudation from mucosa. Extraintestinal manifestations, which are slightly more common in CD than in UC, result from bacterial products and inflammatory mediators (eg, cytokines, prostaglandins, and reactive oxygen metabolites) entering and subsequently being deposited in various tissues and organs, such as the eyes (uveitis), skin (erythema nodosum), liver (cholangitis, hepatitis), and joints (arthritis).
---
Did this answer your question?
Additional feedback? (Optional)
Thank you for your feedback!