Answer
NEC is a common cause of colitis in newborns (see the image below). Very small and ill preterm infants are particularly susceptible to NEC. NEC is multifactorial, but prematurity and the presence of bacteria in the GI tract are significant risk factors associated with NEC.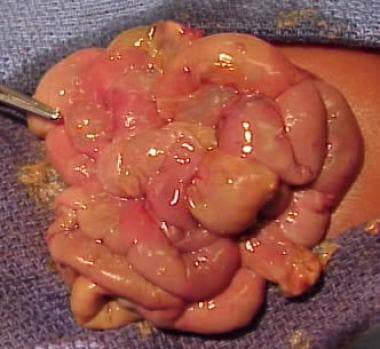 Necrotizing enterocolitis totalis.
NEC appears to involve an inappropriate inflammatory response in an immature intestine. The final common pathway seems to include the endogenous production of inflammatory mediators, such as endotoxin lipopolysaccharide, platelet-activating factor, tumor necrosis factor, and other cytokines, decreased epidermal growth factor, and progressive mucosal damage by free radical production. [2]
Hypoxic ischemia and aggressive enteral feedings are also associated with the pathogenesis of NEC. Varying degrees of mucosal or transmural necrosis of the intestine and colon are recognized. The distal ileum and proximal colon are most frequently involved; in severe cases, gangrene may involve the whole bowel from the rectum to the stomach.
NEC presents with the gas accumulation in the submucosa of the bowel wall and progresses to necrosis leading to perforation of the bowel, peritonitis, and sepsis. Histological changes in NEC include mucosal edema, hemorrhage, coagulation necrosis, and mucosal ulceration.
---
Did this answer your question?
Additional feedback? (Optional)
Thank you for your feedback!