Answer
CT scanning is a useful modality for diagnosing appendicitis in children. Although radiation exposure is a concern, CT scans have been shown to have an accuracy of 97% in diagnosing appendicitis. Advantages of CT scan include the availability at most institutions, the ability to evaluate the entire abdomen and locate abscesses and phlegmon, the lack of dependence on operator skill, and physician familiarity with reading CT scans.
CT findings that are indicative of appendicitis include a thickened appendix, fat streaking around the appendix, or thickening of the cecal wall (see the images below).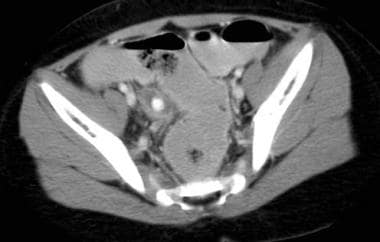 CT scan depicting a distended tubular structure descending into the pelvis and containing a round calcification (ie, an appendicolith).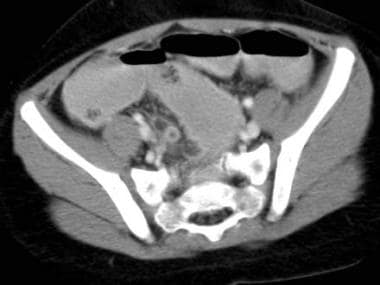 CT scan revealing an enhancing tubular structure descending into the pelvis. Periappendiceal inflammation and streaking, so-called dirty fat, is noted surrounding the appendix.
CT findings that suggest perforated appendicitis include periappendiceal or pericecal air, abscess, phlegmon, and extensive free fluid. Because the disease is due to obstruction of the appendix and the inflammation occurs distal to the obstruction, extravasation of contrast or extensive free air is rarely seen. If a patient is found to have free air throughout the abdomen or under the diaphragm, other diagnoses should be entertained.
CT scanning may be helpful in obese patients or those in whom a localized appendiceal abscess is clinically suspected. In patients with abscesses, CT scanning may also be helpful in the CT-guided drainage of the abscess.
CT scanning has been found to have sensitivity, specificity, and accuracy similar to those of ultrasonography. [8, 10] Disadvantages include the aforementioned radiation exposure, the need for oral and intravenous contrast and its related disadvantages, and the need for the patient to be still, which is often difficult for small children.
Anderson et al investigated the effectiveness of recommendations to minimize CT imaging for pediatric appendicitis by analyzing the use of CT in children's and non-children's hospitals. The study found significant differences in the use of CT (23% vs 70%) and ultrasonography (75% vs 20%) in children's and non-children's hospitals for pediatric patients undergoing appendectomy for acute appendicitis. [11]
Because of the advantages of CT scans, 62% of surveyed North American pediatric surgeons preferred it for evaluation of appendicitis. Of note, less than 1% of pediatric surgeons favored CT scanning for every case of suspected appendicitis. Most preferred CT scanning on a selected basis, with 51-58% of patients with suspected appendicitis undergoing CT scanning. [12]
However, despite now-widespread use of CT scanning for evaluation of appendicitis with its superior sensitivity and specificity, the negative appendectomy rate in children has not shown a statistically significant reduction.
Peck et al and Mullins et al have reported sensitivities of 92-97% and sensitivities of 99.6-99%, respectively, using noncontrast helical CT scanning. [10, 13] Callahan et al reported equivalent results using helical CT scanning and rectally administered contrast material. [14] They reported that this technique results in decreased total number of inpatient observation days, decreased number of negative laparotomies, and decreased per-patient cost.
Additional radiographic testing is clearly indicated in patients who present with equivocal signs and symptoms of appendicitis. Whether noncontrast CT scanning, rectally administered contrast-enhanced CT scanning, CT scanning with oral and intravenous contrast, or ultrasonography is used may be a function of the institution or time of day. The data clearly show that each has sensitivities and specificities over 90% and that each can be helpful in clinical decision-making.
For more information, see Appendicitis Imaging.
---
Did this answer your question?
Additional feedback? (Optional)
Thank you for your feedback!