Answer
The pathophysiologic mechanisms of Graves disease are shown in the image below.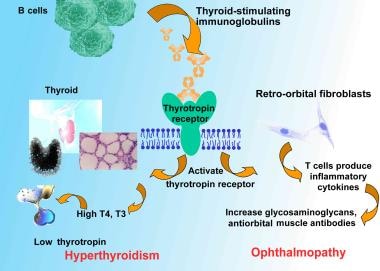 Pathophysiologic mechanisms of Graves disease relating thyroid-stimulating immunoglobulins to hyperthyroidism and ophthalmopathy. T4 is levothyroxine. T3 is triiodothyronine.
Although the exact pathogenesis of thyroid storm is not fully understood, the following theories have been proposed:
Patients with thyroid storm reportedly have relatively higher levels of free THs than patients with uncomplicated thyrotoxicosis, although total TH levels may not be increased.

Adrenergic receptor activation is another hypothesis. Sympathetic nerves innervate the thyroid gland, and catecholamines stimulate TH synthesis. In turn, increased THs increase the density of beta-adrenergic receptors, thereby enhancing the effect of catecholamines. The dramatic response of thyroid storm to beta-blockers and the precipitation of thyroid storm after accidental ingestion of adrenergic drugs such as pseudoephedrine support this theory. This theory also explains normal or low plasma levels and urinary excretion rates of catecholamines. However, it does not explain why beta-blockers fail to decrease TH levels in thyrotoxicosis.

Another theory suggests a rapid rise of hormone levels as the pathogenic source. A drop in binding protein levels, which may occur postoperatively, might cause a sudden rise in free hormone levels. In addition, hormone levels may rise rapidly when the gland is manipulated during surgery, during vigorous palpation during examination, or from damaged follicles following RAI therapy.

Other proposed theories include alterations in tissue tolerance to THs, the presence of a unique catecholaminelike substance in thyrotoxicosis, and a direct sympathomimetic effect of TH as a result of its structural similarity to catecholamines.
---
Did this answer your question?
Additional feedback? (Optional)
Thank you for your feedback!