Answer
See the image below.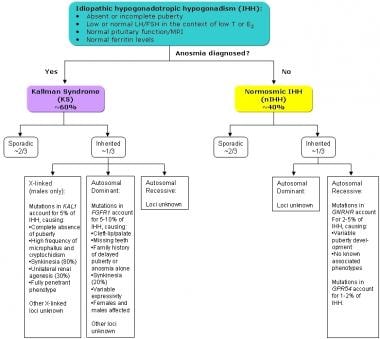 Types of idiopathic hypogonadotropic hypogonadism.
Causes of hypogonadotropic hypogonadism include the following:
Central nervous system (CNS) disorders

Tumors

Germinoma
Other germ cell tumors
Hypothalamic and optic glioma
Pituitary tumor

Miscellaneous causes involving the pituitary/hypothalamic area

Langerhans histiocytosis
Postinfectious lesions of the CNS
Vascular abnormalities of the CNS
Radiation therapy
Congenital malformations (especially associated with craniofacial anomalies)
CNS surgery
---
Did this answer your question?
Additional feedback? (Optional)
Thank you for your feedback!