Answer
Hypogonadism refers to a condition in which little or no hormone is produced by the testes or ovaries. The condition can be hypergonadotropic (primary, resulting when the gonads fail) or hypogonadotropic. The latter can result from failure of the hypothalamic luteinizing-hormone releasing hormone [LHRH] pulse generator or from the inability of the pituitary to respond with secretion of luteinizing hormone [LH] and follicle-stimulating hormone [FSH]. (See the image below.) Morbidity for men and women with hypogonadism includes infertility and an increased risk of osteoporosis; there is no increase in mortality.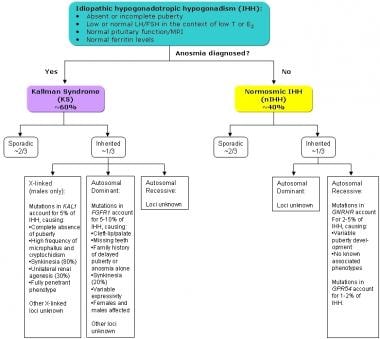 Types of idiopathic hypogonadotropic hypogonadism.
---
Did this answer your question?
Additional feedback? (Optional)
Thank you for your feedback!