Answer
Metabolically, plasma free fatty acid levels should increase to more than 0.5 mmol/L, and beta-hydroxybutyrate levels should increase to more than 1 mmol/L to provide alternative fuel. A failure of both to increase suggests hyperinsulinemic lipolytic suppression. An increase in free fatty acid levels to more than 3 mmol/L without an increase in beta-hydroxybutyrate levels suggests a defect in fatty acid metabolism. (See the diagram below.)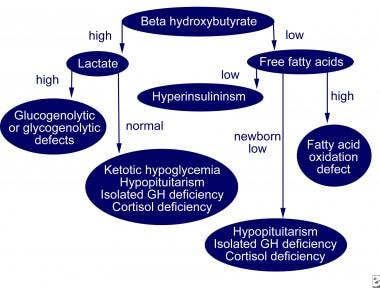 Interpretation of the critical sample.
High plasma lactate levels suggest gluconeogenesis, glycolysis, or respiratory-chain defects. Plasma insulin levels should be suppressed, and cortisol levels should be increased (>550 nmol/L [20 mcg/dL]). Growth hormone levels should also be increased (>6 mcg/L).
---
Did this answer your question?
Additional feedback? (Optional)
Thank you for your feedback!