Answer
Cushing disease may include the following (see images below):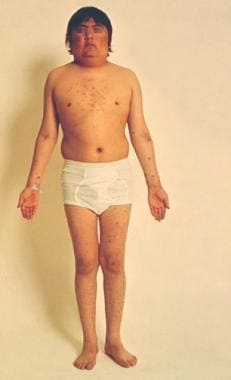 A 16-year-old boy with Cushing disease.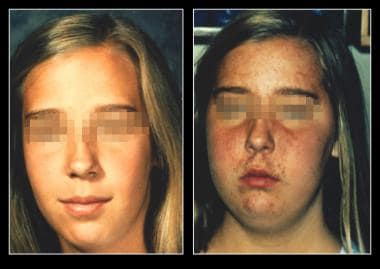 On the left is an unaffected patient aged 12 years. On the right is the same patient aged 13 years after developing Cushing disease.
See the list below:
Cushingoid appearance includes a dorsal cervical fat pad, moon facies, bruising, and striae. These features are only observed in patients with advanced long-standing disease.

Growth failure and short stature may be observed.

Weight gain and obesity in children with Cushing disease tends to be generalized rather than centripetal.

Pubertal arrest, failure, or delay may occur.
---
Did this answer your question?
Additional feedback? (Optional)
Thank you for your feedback!