Answer
In children, corticotropinomas are the most common adenomas observed before puberty, although they occur in people of all ages. They increase in frequency in pubescent and postpubescent children, with a female preponderance. First described by Harvey Cushing in the early 1900s, Cushing disease (see the images below) specifically refers to an adrenocorticotropic hormone (ACTH)–producing pituitary adenoma that stimulates excess cortisol secretion.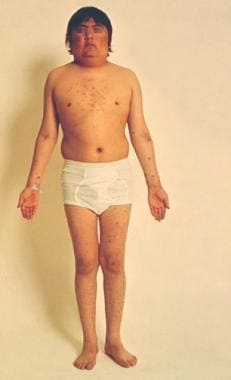 A 16-year-old boy with Cushing disease.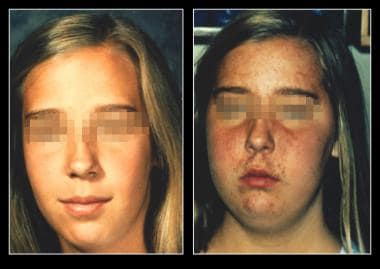 On the left is an unaffected patient aged 12 years. On the right is the same patient aged 13 years after developing Cushing disease.
Adenomas that cause Cushing disease are significantly smaller than all other types of adenomas at presentation. Children have clinical courses somewhat different from adults. They most commonly present with weight gain (usually not centripetal) and growth failure. As in adults, most patients display an absence of the physiologic diurnal rhythm of plasma cortisol and ACTH with increased urinary excretion of free cortisol and 17-hydroxycorticosteroids (17-OHCS).
---
Did this answer your question?
Additional feedback? (Optional)
Thank you for your feedback!