Answer
Hyperpituitarism, or primary hypersecretion of pituitary hormones, is rare in children. It typically results from a pituitary microadenoma. The most frequently encountered adenoma in children is the prolactinoma, followed by corticotropinoma and somatotropinoma. Fewer than 20 cases of thyrotropinoma in children have been reported, all with onset after age 11 years. Pediatric gonadotropinoma has not been reported.
Hypersecretion of pituitary hormones secondary to macroadenomas (see the image below) can interfere with other pituitary hormone functions, resulting in target organ hormone abnormalities (hypogonadism, hyperadrenalism, hyperthyroidism, or hypothyroidism).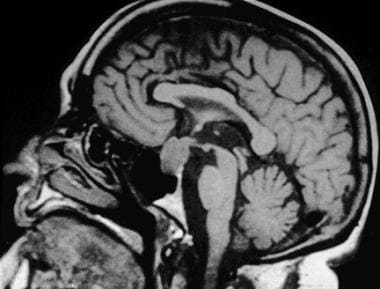 Pituitary macroadenoma.
In some cases, long-standing hormonal hypersecretion is accompanied by sufficient hyperplasia of the pituitary to produce sellar enlargement.
Elevated pituitary hormone levels can also result from normal physiologic responses to abnormalities in target organs. Hyperpituitarism resulting from primary endocrine organ deficiency (eg, high circulating thyroid-stimulating hormone [TSH] levels in primary hypothyroidism due to Hashimoto thyroiditis or elevated adrenocortical hormone [ACTH] levels in primary adrenal insufficiency) quickly suppress to reference range values upon replacement of the active hormone. This form of hyperpituitarism is not accompanied by pituitary adenoma.
Rarely, ectopic tumors can secrete pituitary hormones. Neuroendocrine cells are found in the lung, gastrointestinal tract, pancreas, thyroid gland, adrenal medulla, breast, prostate, and skin and produce hormone products. Neuroendocrine tumors comprise the most common of the "ectopic" hormone syndromes. These cells can produce ACTH, growth hormone-releasing hormone (GHRH), corticotropin-releasing hormone (CRH), somatostatin (SRIH) among many other hormones.
This article focuses on the endocrine manifestations of pituitary adenomas in children.
---
Did this answer your question?
Additional feedback? (Optional)
Thank you for your feedback!