Answer
Short stature may be the normal expression of genetic potential, in which case the growth rate is normal, or it may be the result of a condition that causes growth failure with a lower-than-normal growth rate. [1] Growth failure is the term that describes a growth rate below the appropriate growth velocity for age (see image below).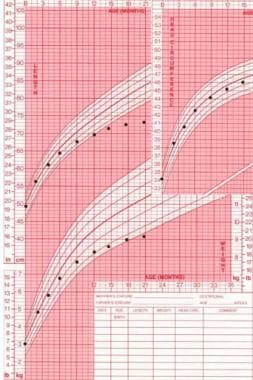 Growth failure in length and weight with a normal head circumference in an infant with growth hormone deficiency.
A child is considered short if he or she has a height that is below the fifth percentile; alternatively, some define short stature as height less than 2 standard deviations below the mean, which is near the third percentile. Thus, 3-5% of all children are considered short. Many of these children actually have normal growth velocity. These short children include those with familial short stature or constitutional delay in growth and maturation, which are normal nonpathologic variants of growth. In order to maintain the same height percentile on the growth chart, growth velocity must be at least at the 25th percentile. When considering all children with short stature, only a few actually have a specific treatable diagnosis. Most of these are children with a slow growth velocity.
---
Did this answer your question?
Additional feedback? (Optional)
Thank you for your feedback!