Answer
Most pediatric patients with diabetes have type 1 diabetes mellitus (T1DM) and a lifetime dependence on exogenous insulin. Diabetes mellitus (DM) is a chronic metabolic disorder caused by an absolute or relative deficiency of insulin, an anabolic hormone. Insulin is produced by the beta cells of the islets of Langerhans located in the pancreas, and the absence, destruction, or other loss of these cells results in type 1 diabetes (insulin-dependent diabetes mellitus [IDDM]). A possible mechanism for the development of type 1 diabetes is shown in the image below. (See Etiology.)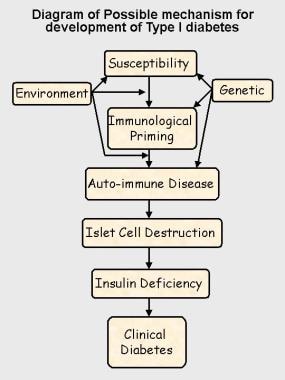 Possible mechanism for development of type 1 diabetes.
Type 2 diabetes mellitus (non–insulin-dependent diabetes mellitus [NIDDM]) is a heterogeneous disorder. Most patients with type 2 diabetes mellitus have insulin resistance, and their beta cells lack the ability to overcome this resistance. [6] Although this form of diabetes was previously uncommon in children, in some countries, 20% or more of new patients with diabetes in childhood and adolescence have type 2 diabetes mellitus, a change associated with increased rates of obesity. Other patients may have inherited disorders of insulin release, leading to maturity onset diabetes of the young (MODY) or congenital diabetes. [7, 8, 9] This topic addresses only type 1 diabetes mellitus. (See Etiology and Epidemiology.)
---
Did this answer your question?
Additional feedback? (Optional)
Thank you for your feedback!