Answer
First described by Peters et al in 1950, cerebral salt-wasting syndrome is defined by the development of extracellular volume depletion due to a renal sodium transport abnormality in patients with intracranial disease and normal adrenal and thyroid function. [1, 2] As such, it may be more appropriately termed renal salt wasting. Complications of cerebral salt-wasting syndrome include symptomatic hyponatremia and dehydration. (See Pathophysiology, Etiology, and Presentation.) Management of cerebral salt-wasting syndrome centers on correction of intravascular volume depletion and hyponatremia, as well as on replacement of ongoing urinary sodium loss, usually with intravenous (IV) hypertonic saline solutions. [3]
Differentiation of this disorder from the syndrome of inappropriate antidiuretic hormone secretion (SIADH), a common cause of hyponatremia, can be difficult because both can present with hyponatremia and concentrated urine with natriuresis. However, distinguishing between the two disorders is important because treatment options differ. Attention to the volume status of the patient is important in making the distinction. Failure to distinguish cerebral salt-wasting syndrome from SIADH in a patient with hyponatremia who has brain injury could lead to inappropriate therapy with fluid restriction. (See Presentation and Workup.)
Although the diagnosis of cerebral salt-wasting syndrome is thought to be controversial by some, [4] it should be considered a discrete clinical entity and may be more common than perceived. [5] It should also be considered in patients without cerebral disease. [4, 6] Possible mechanisms for cerebral salt-wasting syndrome are shown in the chart below.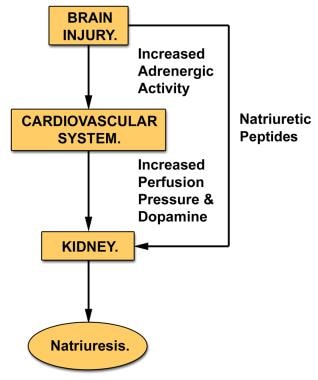 Possible mechanisms for cerebral salt-wasting syndrome. The injured brain may release natriuretic proteins that act directly on the kidney. In addition, cerebral injury may increase sympathetic nervous system activity, elevating renal perfusion pressure and releasing dopamine.
---
Did this answer your question?
Additional feedback? (Optional)
Thank you for your feedback!