Answer
Short stature is a frequent complication of virilizing forms of congenital adrenal hyperplasia (see the image below). In general, patients have final heights 1-2 standard deviations below their estimated genetic potential. [25] This difference results from exposure to excessive concentrations of adrenal androgens that cause rapid skeletal maturation or from excessive exposure to glucocorticoids that limit growth. Early central puberty is often observed in children with advanced skeletal maturation and can contribute to the limitation in growth.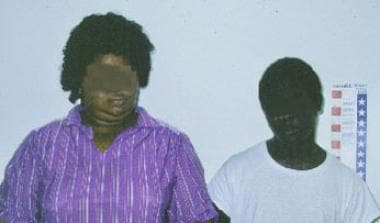 Short stature in a male patient with congenital adrenal hyperplasia secondary to 21-hydroxylase deficiency. His compliance with medical therapy was poor, and early growth and skeletal maturation was advanced, resulting in early puberty and completion of growth. This 12-year-old boy has reached final adult height, which is well below that of his mother.
Growth hormone in combination with GnRH agonist therapy may improve adult height. [19, 20]
A study by Riehl et al indicated that in patients with congenital adrenal hyperplasia, especially women with the simple-virilizing form, higher-dose glucocorticoid treatment may result in lower bone mineral density. This effect appeared to be more pronounced with prednisolone than with hydrocortisone. The investigators also found evidence that adolescents who undergo higher-dose glucocorticoid treatment (as indicated by a lower androstenedione/testosterone ratio) may display lower bone mineral density as adults. [26]
---
Did this answer your question?
Additional feedback? (Optional)
Thank you for your feedback!