Answer
The morbidity of the various forms of adrenal hyperplasia is best understood in the context of the steroidogenic pathway, shown below, used by the adrenal glands and gonads.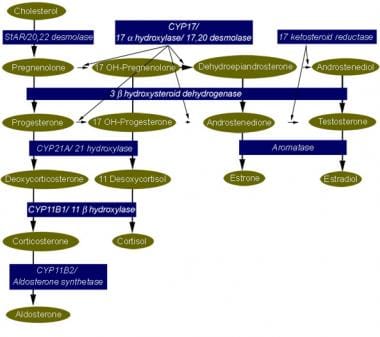 Steroidogenic pathway for cortisol, aldosterone, and sex steroid synthesis. A mutation or deletion of any of the genes that code for enzymes involved in cortisol or aldosterone synthesis results in congenital adrenal hyperplasia. The particular phenotype that results depends on the sex of the individual, the location of the block in synthesis, and the severity of the genetic deletion or mutation.
---
Did this answer your question?
Additional feedback? (Optional)
Thank you for your feedback!