Answer
The term congenital adrenal hyperplasia (CAH) encompasses a group of autosomal recessive disorders, each of which involves a deficiency of an enzyme involved in the synthesis of cortisol, [1, 2] aldosterone, or both. Deficiency of 21-hydroxylase, resulting from mutations or deletions of CYP21A, is the most common form of CAH, accounting for more than 90% of cases. [3] The diagnosis of CAH depends on the demonstration of inadequate production of cortisol, aldosterone, or both in the presence of accumulation of excess concentrations of precursor hormones. [2] (See the image below.)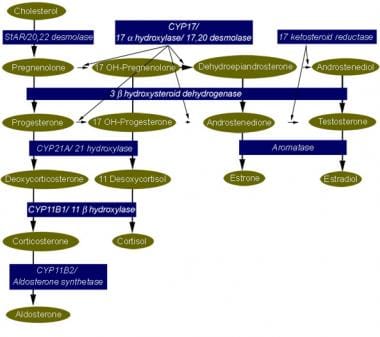 Steroidogenic pathway for cortisol, aldosterone, and sex steroid synthesis. A mutation or deletion of any of the genes that code for enzymes involved in cortisol or aldosterone synthesis results in congenital adrenal hyperplasia. The particular phenotype that results depends on the sex of the individual, the location of the block in synthesis, and the severity of the genetic deletion or mutation.
---
Did this answer your question?
Additional feedback? (Optional)
Thank you for your feedback!