Answer
Histologic findings in adrenal insufficiency (Addison disease) depend on the underlying cause. CT scan–guided fine-needle aspiration sometimes helps in diagnosing the etiology of infiltrative adrenal disease.
In cases of autoimmune adrenal failure, lymphocytic infiltration destroys the adrenal gland. Granulomatous changes in the adrenal glands indicate tuberculosis (TB)-related adrenal insufficiency (see the image below). Neoplastic infiltrations are caused by metastatic tumors. Hemorrhagic adrenal insufficiency results in hemorrhagic destruction of the adrenal glands. Fungal disease produces the typical picture of fungal infiltrates. Atrophy of the adrenals characterizes adrenocorticotropic hormone (ACTH) deficiency or resistance. Hyperplasia of the adrenals is characteristic of defects in steroidogenesis.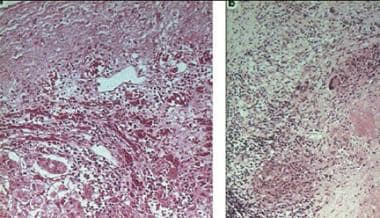 Left photomicrograph shows autoimmune adrenalitis. Right photomicrograph shows tuberculous adrenalitis. Note the caseous granuloma.
---
Did this answer your question?
Additional feedback? (Optional)
Thank you for your feedback!