Answer
Computed tomography (CT) scanning is the imaging study of choice in the evaluation of adrenal insufficiency (Addison disease) and helps to identify adrenal hemorrhage, calcifications (see the following image), or infiltrative disease. Magnetic resonance imaging (MRI) is not as useful as CT scanning, and iodocholesterol scanning is also not particularly useful for adrenal insufficiency.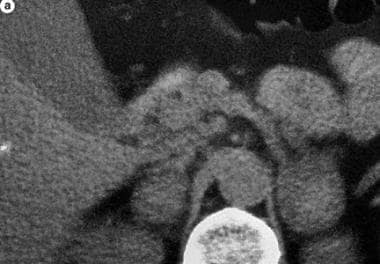 Computed tomography scan shows enlarged adrenal glands in a patient with early active autoimmune adrenalitis. Patients with chronic disease present with the opposite picture of hypotrophic adrenals.
---
Did this answer your question?
Additional feedback? (Optional)
Thank you for your feedback!