Answer
Patients with acute adrenal insufficiency (Addison disease) generally present with acute dehydration, hypotension (especially orthostatic hypotension and tachycardia), symptomatic hypoglycemia, or altered mental status. These signs may occur in conjunction with acute sepsis or disseminated intravascular coagulation or in a patient after a traumatic delivery.
As previously discussed, hyperpigmentation may be seen in primary adrenal insufficiency due to adrenocorticotropic hormone (ACTH) overproduction by the pituitary. The ACTH molecule contains the sequence for alpha-melanocyte-stimulating hormone (MSH), which stimulates melanocytes.
Note increased skin pigmentation, particularly in the areolae and genitalia, as well as any scars or moles. Recent scars are typically affected more than old scars. In addition, areas unexposed to sun (eg, palmar creases, axillae, areolae) are often hyperpigmented, which may help to distinguish hyperpigmentation from sun tan. The patient may also have pigmentary lines in the gums. See the images below.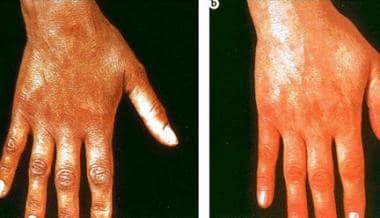 Left photograph shows hyperpigmentation on the dorsum of a patient's hand before the treatment of primary adrenal insufficiency. Right photograph shows normal pigmentation after treatment.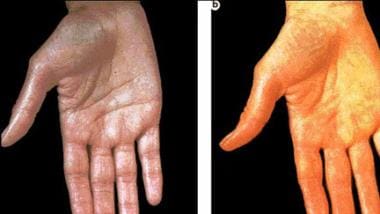 Left photograph shows a patient with Addison disease who has prominent pigmentation in areas not exposed to the sun, such as the palmar creases. Right photograph shows normal pigmentation after treatment.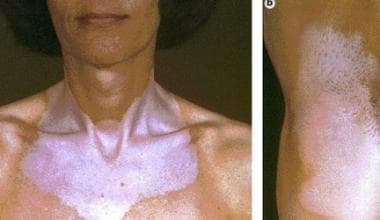 Left photograph shows vitiligo in a patient with autoimmune adrenalitis. Right photograph shows an area of hyperpigmentation surrounding the vitiligo.
Signs of weight loss may be evident. If the patient is not frankly hypotensive, he or she may have orthostatic hypotension.
Some patients lose pubic and axillary hair because adrenal androgens support growth of body hair in these areas.
---
Did this answer your question?
Additional feedback? (Optional)
Thank you for your feedback!