Answer
Adrenal insufficiency (Addison disease) can be classified as primary, which occurs when the adrenal gland itself is dysfunctional, or secondary, also called central adrenal insufficiency, which occurs when a lack of secretion of corticotropin-releasing hormone (CRH) from the hypothalamus or of adrenocorticotropic hormone (ACTH) from the pituitary leads to hypofunction of the adrenal cortex. [1] See the image below.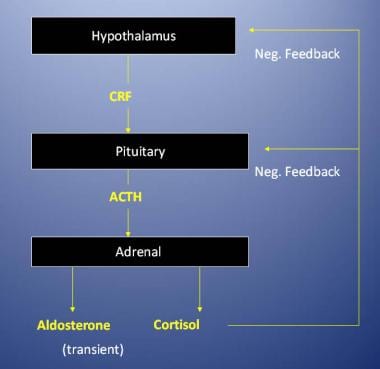 Regulation of the adrenal cortex. ACTH = adrenocorticotropic hormone; CRF = corticotropin-releasing factor; neg. = negative.
Adrenal insufficiency can further be classified as congenital or acquired (see Etiology).
---
Did this answer your question?
Additional feedback? (Optional)
Thank you for your feedback!