Answer
Slipped capital femoral epiphysis (SCFE) is one of the most important pediatric and adolescent hip disorders encountered in medical practice. [1, 2, 3, 4, 5, 6] Although SCFE is a rare condition, an accurate diagnosis combined with immediate treatment is critical. [7, 8] Despite the fact that the underlying defect may be multifactorial (eg, mechanical and constitutional factors), SCFE represents a unique type of instability of the proximal femoral growth plate. Clinically, the patient may report hip pain, medial thigh pain, and/or knee pain; an acute or insidious onset of a limp; and decreased range of motion of the hip.
On plain radiographs, the femoral head is seen displaced, posteriorly and inferiorly in relation to the femoral neck and within the confines of the acetabulum. [9] Treatment is primarily operative internal fixation. The goal is to prevent complications such as avascular necrosis (AVN). [2, 10, 11, 12, 13]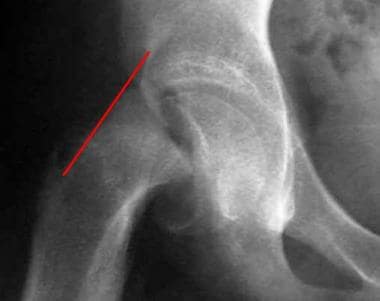 A Klein line is a line drawn along the superior border of the femoral neck that would normally pass through a portion of the femoral head. If not, slipped capital femoral epiphysis is diagnosed.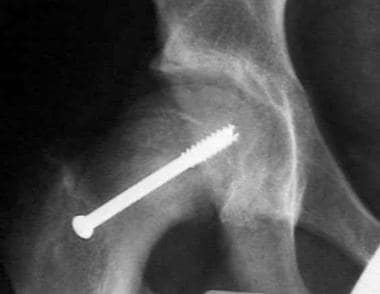 X-ray of a hip following operative percutaneous fixation of a slipped capital femoral epiphysis.
---
Did this answer your question?
Additional feedback? (Optional)
Thank you for your feedback!