Answer
History and the physical examination findings determine which laboratory and diagnostic imaging studies are necessary. [1]
If a bleeding problem is suspected, a basic bleeding evaluation (platelets, PT, aPTT) is a valuable screening tool, the results of which may suggest the need for more sophisticated bleeding evaluation and/or hematology consultation, if available. Pattern mark or highly suspicious bruising, in the absence of other bruising in more common locations (eg, shins of school-age child), likely does not require an extensive bleeding workup.
If a genetic bone disease or mineralization defect is suspected, screening calcium, magnesium, phosphorus, and vitamin D levels is indicated. Interpretation of vitamin D levels in children is complex due to lack of robust evidence establishing normal values and thresholds below which bones would be clinically more susceptible to fracture. Review of radiographs with a pediatric radiologist is ideal to evaluate bones for signs of poor growth or healing. Genetic consultation, if available, may be warranted.
Toxicology screening is indicated if the clinical situation suggests a possible ingestion as the cause of the findings on examination and evaluation or when a child presents from a household where drug use or production is suspected or confirmed. [2]
Screening for abdominal injury is recommended in children younger than age 5 years in whom abuse is suspected, even in the absence of clear external evidence of abdominal injury or symptoms such as pain or vomiting. Note the image below.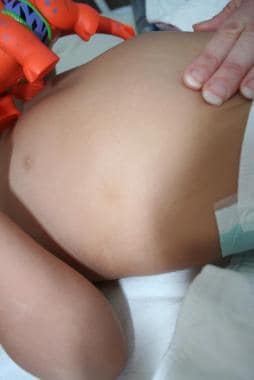 Faint abdominal bruising. This toddler had elevated liver function test results, liver laceration found on abdominal CT scan, and an upper lip frenulum tear. Note that abdominal injury may be present with little or no bruising of the abdomen.
Screening includes aspartate aminotransferase (AST) and alanine aminotransferase (ALT) as markers for liver injury, amylase and lipase levels for pancreatic injury, urine analysis for red blood cells to evaluate for urinary tract injury, and stool guaiac for intestinal injury. [3, 4]
Basic guidelines for the appropriate evaluation of a child suspected to be a victim of physical abuse, by age, are shown below.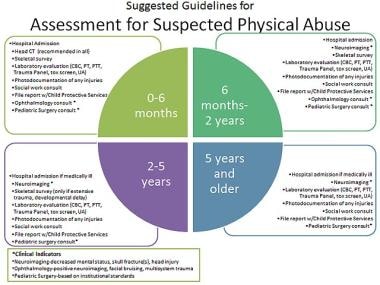 Guidelines for the assessment of suspected physical abuse.
---
Did this answer your question?
Additional feedback? (Optional)
Thank you for your feedback!