Answer
Morbidity
Different forms of injury have different risks. For example, CNS injury and occult abdominal injury in younger children are particularly serious. Bruises may be superficial or harbingers of more serious deeper injury. Burns observed in child maltreatment cases tend to be highly severe. Finally, skeletal injuries may be isolated or multiple in nature and may be associated with other injuries. DiScala and colleagues conducted a 10-year retrospective of medical records in the National Pediatric Trauma Registry (NPTR) from 1988-1997; it compared hospitalized, injured children younger than 5 years to determine differences between inflicted (n= 1,997) and accidental injuries (n= 16,831). [17]
DiScala's group found that compared with children who had accidental injury, children who were abused tended to be younger (12.8 mo vs 25.5 mo), were mainly injured by battering (53%) and shaking (10.3%), and were more likely to have a preinjury medical history of a medical problem or condition. The unintentionally injured children were mainly injured by falls (58.4%) and motor vehicles (37.1%). Note the image below.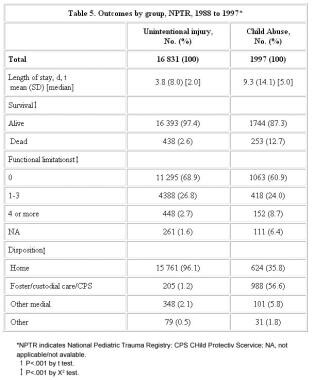 National Pediatric Trauma Group registry findings.
In order to fully comprehend the morbidity of victims of child abuse victims, it is necessary to look beyond the immediate period of injury and recovery. Looking at potential long-term impacts on health and well being, Felitti et al explored the connection between exposure to childhood abuse and the connection between household dysfunction to subsequent health risks and the development of illness in adulthood in a series of studies referred to as the Adverse Childhood Experiences (ACE) studies. [18] Of 13,494 adults who completed a standard medical evaluation in 1995-1996, 9,508 completed a survey questionnaire that asked about their own childhood abuse and exposure to household dysfunction; the investigators then made correlations to risk factors and disease conditions.
In order to assess exposure to child abuse and neglect, the ACE questionnaire asked about categories of child maltreatment, specifically psychological, physical, and sexual maltreatment. When asking about physical abuse, the questionnaire asked the patients if a parent or other adult in the household had (1) often or very often pushed, grabbed, shoved, or slapped them or (2) often or very often hit them so hard that marks or other injuries resulted.
In order to assess exposure to household dysfunction, the ACE questionnaire asked questions by category of dysfunction, such as having a household member who had problems with substance abuse (eg, problem drinker, drug user), mental illness (eg, psychiatric problem), criminal behavior in household (eg, incarceration) or having a mother who was treated violently. In assessing if their mother was treated violently when the patient was a child, respondents were asked if their mother or step-mother was (1) sometimes or very often pushed, grabbed, slapped, bitten, hit with a fist, or hit with something hard or had something thrown at her or (2) was ever repeatedly hit for at least a few minutes or threatened with or hurt by a knife or gun.
In addition to the questionnaire information, the standardized medical examination of the adults assessed risk factors and actual disease conditions. The risk factors included smoking, severe obesity, physical inactivity, depressed mood, suicide attempts, alcoholism, any drug abuse, a high lifetime number of sexual partners, and a history of sexually transmitted disease (STD). The disease conditions included ischemic heart disease, cancer, stroke, chronic bronchitis, emphysema, diabetes, hepatitis, and skeletal fractures.
Once all the data were collected and analyzed, Felitti et al found that the most prevalent ACE was substance abuse (25.6%), the least prevalent ACE was criminal behavior (3.4%), and the prevalence of physical abuse was 10.8% and the prevalence of the mother being treated violently was 12.5%.
Overall, 52% of the respondents had one or more ACEs and 6.2% had 4 or more ACEs. The following were findings in respondents who experienced 4 or more ACEs compared with those who had none:
Risk of alcoholism, drug abuse, depression, and suicide attempt increased 4-12 fold

Rates of smoking, poor self-rated health, and high number of sexual partners and STDs increased 2-4 fold

Physical inactivity and severe obesity increased 1.4-1.6 fold
The major finding of the ACE studies was a graded relationship between the number of exposures to maltreatment and household dysfunction during childhood to the presence in later life of multiple risk factors and several disease conditions associated with death in adulthood. Note the image below.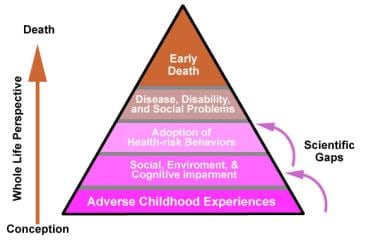 Adverse child experiences pyramid.
Bentley and Widom (2009) found that physical abuse during childhood is a risk factor for obesity in adulthood. In a prospective assessment comparing individuals with documented histories of childhood physical and sexual abuse and neglect with a matched cohort of children without such histories, 30-year follow-up showed that childhood physical abuse led to significantly higher body mass index (BMI) scores in adulthood (beta = 0.14, P< 0.05), even controlling for demographic characteristics, cigarette smoking, and alcohol consumption (beta = 0.16, P< 0.01). In contrast, childhood sexual abuse or neglect was not a significant predictor of adult BMI scores. [19]
---
Did this answer your question?
Additional feedback? (Optional)
Thank you for your feedback!