Answer
United States
It is important to understand the sources of data on child maltreatment incidence. The National Incidence Study (NIS) methodology views maltreated children who are investigated by child protective services (CPS) agencies as representing only the "tip of the iceberg;" thus, children investigated by CPS are included along with maltreated children who are identified by professionals in a wide range of agencies in representative communities.
The Fourth National Incidence Study (NIS-4) uses data gathered from a nationally representative sample of 122 counties. CPS agencies in these counties provide data about all children in cases they accept for investigation during 1 of 2 reference periods (September 4, 2005 through December 3, 2005, or February 4, 2006 through May 3, 2006). Additionally, professionals in these same counties serve as NIS-4 sentinels and report data about maltreated children identified by the following organizations: elementary and secondary public schools; public health departments; public housing authorities; short-stay general and children's hospitals; state, county, and municipal police/sheriff departments; licensed daycare centers; juvenile probation departments; voluntary social services and mental health agencies; shelters for runaway and homeless youth; and shelters for victims of domestic violence.
In 2009, approximately 3.3 million reports involving 5.9 million children were made to CPS agencies. Of these, 60.7% were accepted as needing further investigation, and, once evaluated, the investigations concluded that child abuse and neglect had affected approximately 695,000 children included in 754,000 cases of abuse (ie, some children with more than one episode of substantiated abuse), with 17.6% of this total representing cases of substantiated physical abuse. The most common form of substantiated abuse in 2009 was child neglect (including medical neglect), which accounted for 80.7% of cases, followed by child sexual abuse (9.2% of cases) and emotional maltreatment (8.1% of cases). [14]
The NIS-4 reported that of the approximately 1.25 million estimated annual cases of child abuse, approximately 323,000 cases were identified as physical abuse. [5] The number of children who experienced physical abuse decreased from an estimated 381,700 at the time of the NIS–3 (1993) to an estimated 323,000 in the NIS–4 (a 15% decrease in number and a 23% decline in the rate).
It is important to recognize that these numbers reflect changes in the "Harm Standard" as defined by NIS, which is relatively stringent in that it generally requires that an act or omission result in demonstrable harm in order to be classified as abuse or neglect.
NIS-4 also reported on the Endangerment Standard, which includes all children who meet the Harm Standard but adds others as well. The central feature of the Endangerment Standard is that it counts children who were not yet harmed by abuse or neglect if thought that the maltreatment endangered the children or if a CPS investigation substantiated or indicated their maltreatment. In addition, the Endangerment Standard is slightly more lenient than the Harm Standard in allowing a broader array of perpetrators, including adult caretakers other than parents in certain maltreatment categories and teenage caretakers as perpetrators of sexual abuse.
Comparing the Endangerment Standard, the number of physically abused children decreased from an estimated 614,100 children in 1993 to 476,600 in 2006 (a 22% decrease in number, a 29% decline in the rate). The reasons behind this decrease are uncertain and may be a result of sample sizes in technique. These data should not be misinterpreted as an indication that physical abuse or endangerment of children has been "cured." NIS-4 data report that 1 child in every 58 in the United States was harmed under the Harm Standard definition, including physical abuse, sexual abuse, and neglect.
In various clinical series, skeletal fractures are observed in approximately 30% of the children, burns are observed in 9-10%, bruises are quite common and are present in approximately 40% of child maltreatment cases, and inflicted CNS injury is observed in 24% of children treated for head injury.
Finkelhor, Jones, and Shattuck have analyzed trends in reporting and substantiation rates for child abuse and neglect from the 1990s through 2010 and have identified a decline in the number of substantiated cases of physical abuse. [15] According to their most recent analysis, the incidence of substantiated physical abuse cases declined 56% from 1992-2010. Cases of child sexual abuse have also declined substantially, with a 53% decrease in the number of substantiated cases of sexual abuse observed from 1992-2006. However, child neglect, the most common form of child maltreatment, declined but less so, with a 10% decline in substantiated cases from 1992-2010. Note the image below.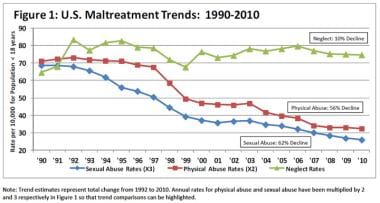 US maltreatment trends, 1990-2010.
---
Did this answer your question?
Additional feedback? (Optional)
Thank you for your feedback!