Answer
The relationship of domestic violence or intimate partner violence (IPV) and child maltreatment is receiving increasing attention. Each year, between 3.3 and 10 million children witness episodes of family violence; 30-59% of mothers of abused children are victims of domestic violence or intimate partner violence. Additionally, children whose mothers are victims of domestic violence or intimate partner violence are 6-15 times more likely to be maltreated compared to children living in families in which their mothers are not being battered. The American Academy of Pediatrics (AAP) recommends that pediatricians assess for the presence of domestic violence and intimate partner violence in the child's family and observes that intervening on behalf of the victimized parent (typically the child's mother) may be an effective child-abuse prevention strategy. [10] Note the image below.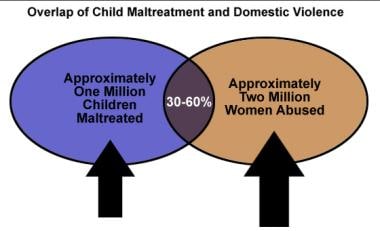 Overlap of child maltreatment and domestic violence.
The relationship between the application of corporal punishment and risk for maltreatment remains an area of concern. Corporal punishment is defined as a discipline method that uses physical force as a behavioral modifier. Corporal punishment is nearly universal; 90% of US families report having used spanking as a means of discipline at some time. Corporal punishment has its roots in personal, cultural, religious, and societal views of children and how they are to be disciplined. Corporal punishment includes pinching, spanking, paddling, shoving, slapping, shaking, hair pulling, choking, excessive exercise, confinement in closed spaces, and denial of access to a toilet.
No credible evidence in medical literature supports the continued use of corporal punishment; spanking is less effective than "time out" or removal of privileges for decreasing undesired behavior in children. Discipline, however, is a necessary component for child rearing, and appropriate discipline aims for limit setting, teaching right from wrong, assisting in decision making, and helping the child develop a sense of self-control.
When physical force is used as a discipline technique (as in corporal punishment), the concern arises that if the misconduct continues even after corporal punishment is applied, the caregiver then may become angry and frustrated and reapply the physical force. As the physical force is reapplied while the caregiver is becoming increasingly angry, the potential emerges for the caregiver to lose control and injure the child. Regardless of whether injuring the child was the intended outcome of the corporal punishment, the end result experienced by the injured child is that he or she has been hurt.
Caregivers who use corporal punishment are often angry, irritable, depressed, fatigued, and stressed. They apply the punishment at a time that they "have lost it," and caregivers frequently express remorse and agitation while punishing their children. To avoid this risk of harming the child and in order to model nonviolent behavior for children, many healthcare professionals advocate child discipline via consistent, nonphysical force based approaches such as "time out," loss of privileges, expressions of parental disappointment, and grounding. Approximately one half of US pediatricians report being opposed generally to the use of corporal punishment; about one third are completely opposed to its use (about three fourths of the pediatricians reported having been spanked when they were children).
---
Did this answer your question?
Additional feedback? (Optional)
Thank you for your feedback!