Answer
It is impossible and inadvisable to consider physical abuse of a child as an isolated incident with one cause and one effect. The ecological model of human development and interaction is generally regarded as an ideal conceptual framework from which to approach the complex interactions among the caregiver, child, family, social situation, and cultural values leading to the nonaccidental injury or physical abuse of the child. Note the image below.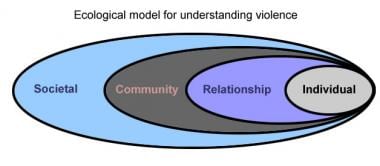 Ecological model for understanding violence.
The ecological model sees a child functioning within a family (microsystem), the family functioning within a community (exosystem), the various communities linked together by a set of sociocultural values that influence them (macrosystem), and all of these systems operating over time (chronosystem). Each of these system components is interactional in nature and affects one another. Similar events have different effects that depend on the period and circumstances in which the event occurs (eg, the child interacts and has an impact on the family, the family influences the child).
---
Did this answer your question?
Additional feedback? (Optional)
Thank you for your feedback!