Answer
Physical child abuse (ie, nonaccidental injury that a child sustains at the hands of his or her caregiver) can result in skeletal injury, burns, bruising (see the first image below), and central nervous system injury from head trauma (see the second image below). To determine whether a child's injury was likely to have been inflicted rather than accidental, the clinician must establish the full extent of the injury and must understand the child's developmental level and abilities.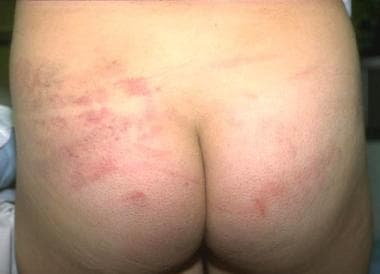 Bruises inflicted with belt. Image courtesy of Lawrence R. Ricci, MD.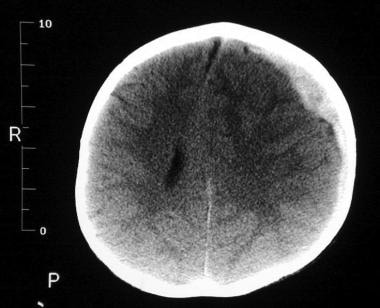 Acute subdural with shift. Image courtesy of Lawrence R. Ricci, MD.
See Pediatric Concussion and Other Traumatic Brain Injuries, a Critical Images slideshow, to help identify the signs and symptoms of TBI, determine the type and severity of injury, and initiate appropriate treatment.
Also see the 12 Can't-Miss Findings on Pediatric Imaging Studies slideshow to help correctly evaluate abnormal findings in imaging studies for pediatric patients.
---
Did this answer your question?
Additional feedback? (Optional)
Thank you for your feedback!