Answer
Peroneal tendon stability test is performed as follows:
The operator holds the athlete's foot with one hand, while the opposite hand gently palpates the peroneal tendons just posterior to the lateral malleolus.

The operator moves the foot into end-range inversion, and then asks the athlete to evert against resistance.

The other hand is monitoring the peroneal tendon, feeling for a palpable snap, or translation.
See the image below.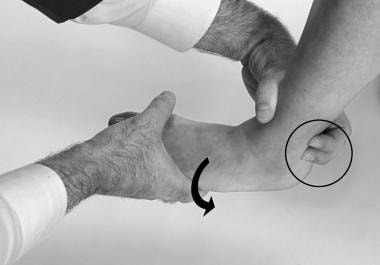 Peroneal stability test. The patient pushes the foot laterally against resistance, while the operator monitors the tendon. From Karageanes SJ. Principles of Manual Sports Medicine, Lippincott Williams & Wilkins, 2005.
---
Did this answer your question?
Additional feedback? (Optional)
Thank you for your feedback!