Answer
After testing passive and active plantarflexion, dorsiflexion, inversion, and eversion, a few specific tests for stability should be performed.
Anterior drawer test is performed as follows:
Have the patient sit on the edge of the table with his or her legs dangling.

Hold the distal tibia stable with your nondominant hand as the dominant hand pulls the posterior aspect of the calcaneus forward.

Laxity indicates an injury to the anterior talofibular ligament.
See the image below.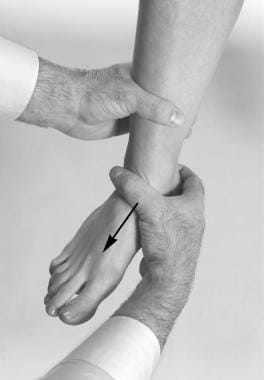 Anterior drawer test, which assesses anterior talofibular ligament stability. The top hand stabilizes, while the lower hand translates the calcaneus and talus directly toward the operator. From Karageanes SJ. Principles of Manual Sports Medicine, Lippincott Williams & Wilkins, 2005.
---
Did this answer your question?
Additional feedback? (Optional)
Thank you for your feedback!