Answer
Injuries to the peroneal tendons are common but not always clinically significant. [1] They are misdiagnosed as a lateral ankle sprain most of the time, because isolated injury to the peroneal tendons is rare. [2, 3] Injury can occur in one or both peroneus longus and brevis tendons and is typically classified as acute or chronic. Function can be severely compromised by any tendon disruption; conversely, complete tendon rupture can be asymptomatic. Lesions have been seen in symptomatic patients, as well as in cadaver studies of patients who were presumably asymptomatic. [4] The reason for this variation is not known.
The image below depicts the anatomy of the lateral ankle.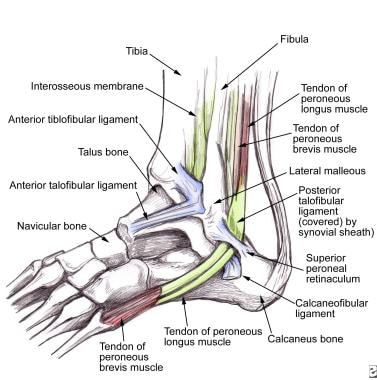 Lateral ankle anatomy demonstrates the peroneal tendons as they course beneath the superior retinaculum. The anterior talofibular, calcaneofibular, and posterior talofibular ligaments are also shown.
---
Did this answer your question?
Additional feedback? (Optional)
Thank you for your feedback!