Answer
Diaper dermatitis is caused by overhydration of the skin, maceration, prolonged contact with urine and feces, retained diaper soaps, and topical preparations and is a prototypical example of irritant contact dermatitis. [1, 2] Signs and symptoms are restricted in most individuals to the area covered by diapers. [3, 4]
The photograph below depicts a 3-week-old female neonate with diaper rash.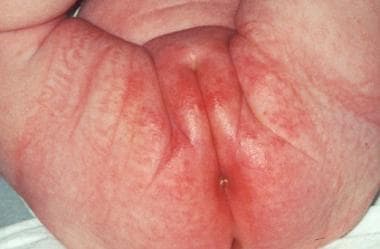 A 3-week-old female infant with diaper rash. Satellite lesions can be observed. The patient was diagnosed clinically with candidal dermatitis and successfully treated with nystatin ointment.
---
Did this answer your question?
Additional feedback? (Optional)
Thank you for your feedback!