Answer
Leaving mollusca to spontaneously resolve is often reasonable, [39] especially in young children for whom freezing or curettage may be painful and frightening. The dictum primum non nocere (first do no harm) has a special significance in children with minor, self-limited conditions. Many physicians refuse to treat children with small numbers of mollusca.
Lesions on the eyelids and central face may be particularly distressing to parents and patients. When possible, treat lesions at other locations first, with the hope that the treatment may stimulate the facial lesions to spontaneously resolve. When facial lesions require treatment, the best option is to treat them frequently with minor physical trauma. (See the image below.)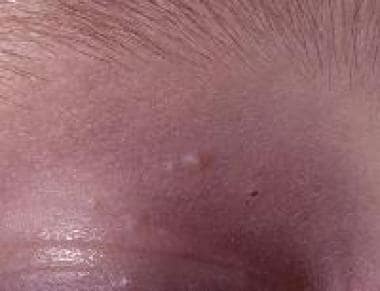 Lesions on the upper eyelid of a 3-year-old child.
More aggressive therapy may be required in patients in whom the extent of disease is intolerable and in patients who are immunocompromised.
---
Did this answer your question?
Additional feedback? (Optional)
Thank you for your feedback!