Answer
Lesions in molluscum contagiosum have a characteristic histopathology. [25] The prototypical hematoxylin and eosin (H&E)–stained histologic section in this disease reveals a cup-shaped indentation of the epidermis into the dermis (as seen in the images below). Downward proliferation of the rete ridges with envelopment by the connective tissue forms the crater.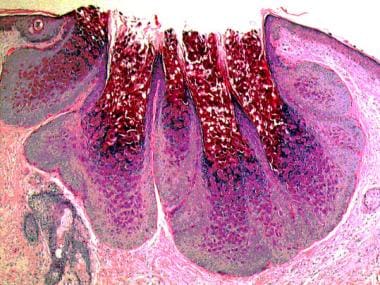 This low-power view of a molluscum contagiosum lesion shows the classic cup-shaped invagination of the epidermis into dermis. The Henderson-Paterson bodies are identified readily and stained purple to red in this image.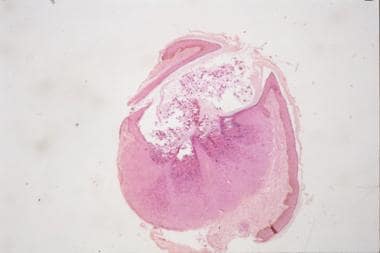 Low-power histopathologic examination reveals an overall cup-shaped appearance.
Within the region of the indentation, the epidermis appears thickened (acanthosis), possibly measuring up to 6 times the thickness of the surrounding, uninvolved skin, and the cornified layer typically is disintegrated. The striking feature is the presence of intracytoplasmic, eosinophilic, granular inclusions within the keratinocytes of the basal, spinous, and granular layers of the epidermis.
These inclusions, the Henderson-Paterson bodies, can measure 35µm in diameter. Ultrastructural studies have shown that these bodies are membrane-bound sacs that contain numerous molluscum contagiosum virions. The viral particles increase in size as they progress up toward the granular layer, causing compression of the nucleus to the periphery of the infected keratinocytes. The surrounding dermis is relatively unremarkable. Intact lesions show little or no inflammatory change. (See the images below.)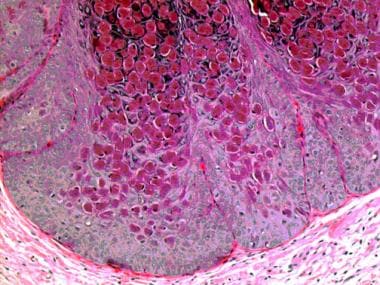 This is a medium-power view of a molluscum contagiosum lesion. Magnification allows better demonstration of the intracytoplasmic molluscum bodies (staining purple-pink) within the keratinocytes.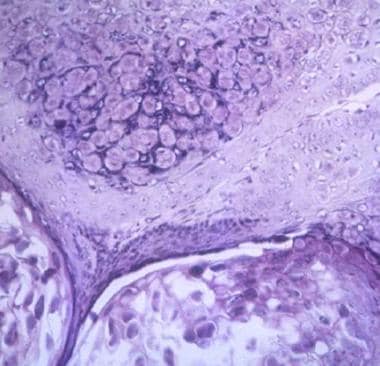 Lesions of molluscum contagiosum have a characteristic histopathology. Lobules containing hyalinized molluscum bodies, also known as Henderson-Paterson bodies, are diagnostic.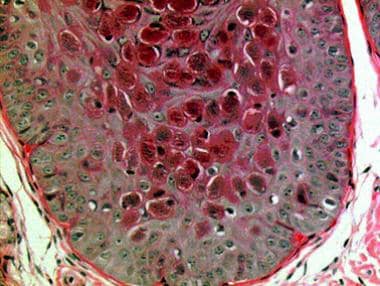 This molluscum contagiosum body is an intracytoplasmic inclusion body. Notice in the image that the keratinocyte nuclei are displaced to the periphery of the cell and that the intracytoplasmic inclusions have a granular quality.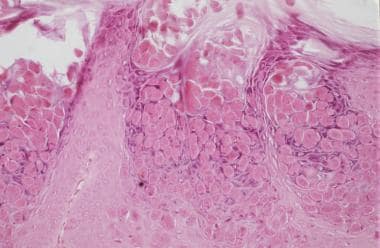 Cytoplasmic viral inclusions become progressively larger toward the epidermal surface (hematoxylin and eosin, 200X)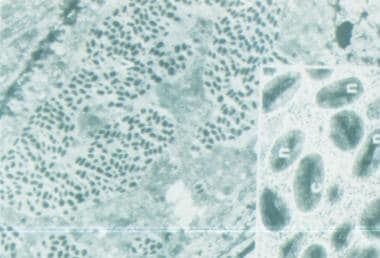 Viral particles have a dumbbell-shaped appearance. Courtesy of Alvin Zelickson, MD.
In nonprototypical cases of molluscum contagiosum, in which intradermal rupture of molluscum bodies occurs, an intense, inflammatory dermal infiltrate consisting of lymphocytes, histiocytes, and occasional foreign body–type, multinucleated giant cells may be observed. Rarely, metaplastic ossification may occur. Exceptionally, the inflammatory dermal infiltrate may be intense enough to simulate a cutaneous lymphoma (pseudolymphoma).
---
Did this answer your question?
Additional feedback? (Optional)
Thank you for your feedback!