Answer
Lesions may be located anywhere; however, a predilection for the face, trunk, and extremities is observed in children and a predilection for the groin and genitalia is observed in adults. Lesions are seldom found on the palms and are rarely documented on the soles, oral mucosa, or conjunctiva.
Distribution is influenced by the mode of infection, type of clothing worn, and climate. In sexually active individuals, the lesions may be confined to the penis, pubis, and inner thighs (see the image below). Widespread and persistent molluscum contagiosum may occur in patients with AIDS and may be the presenting complaint.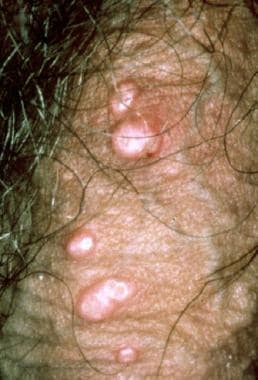 Molluscum contagiosum on the shaft of the penis. Molluscum contagiosum in the genital region of adults is most commonly acquired as a sexually transmitted disease.
---
Did this answer your question?
Additional feedback? (Optional)
Thank you for your feedback!