Answer
Lesions are discrete, nontender, flesh-colored, dome-shaped papules that show a central umbilication (which is more apparent when the lesion is frosted with liquid nitrogen). (See the image below.)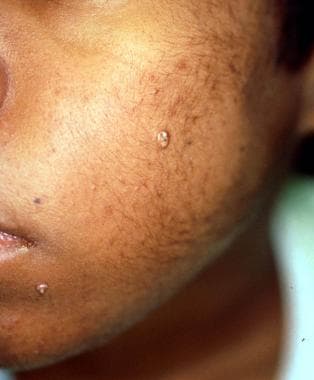 Presented here are the classic umbilicated papules of molluscum contagiosum lesions on the cheek of a child. Facial lesions occur frequently in children, although lesions generally are few.
Lesions are usually 2-5 mm (rarely up to 1.5 cm in the case of giant molluscus) in diameter and may be present in groups or widely disseminated. Immunocompetent children and adults usually have fewer than 20 lesions. Larger lesions may have several distinct clumps of molluscum bodies (see the image below). Beneath the umbilicated center is a white, curdlike core that contains molluscum bodies. Some lesions become confluent to form a plaque (agminate form).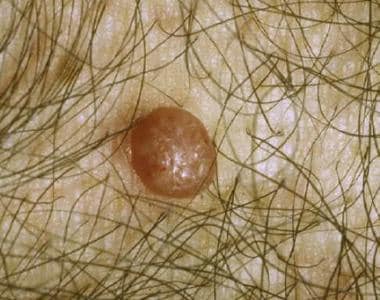 Larger lesions may have several clumps of molluscum bodies rather than the more common single central umbilication. This may make them difficult to recognize as molluscum contagiosum.
---
Did this answer your question?
Additional feedback? (Optional)
Thank you for your feedback!