Answer
Widespread, persistent, and atypical molluscum contagiosum may occur in patients who are significantly immunocompromised or have acquired immunodeficiency syndrome (AIDS) with low CD4 T-lymphocyte counts (see the images below). Molluscum contagiosum may be the presenting complaint in patients with AIDS. Molluscum contagiosum virus infection in immunocompromised patients may be particularly resistant to therapy. Other opportunistic infections in these patients may closely resemble molluscum contagiosum.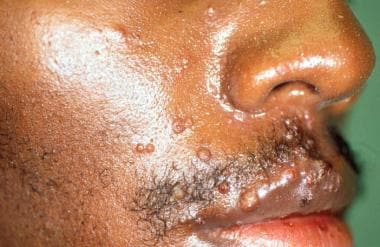 Molluscum contagiosum rarely occurs on the face in an adult unless the patient is infected with HIV. When molluscum contagiosum occurs in individuals infected with HIV, facial lesions are common and frequently numerous.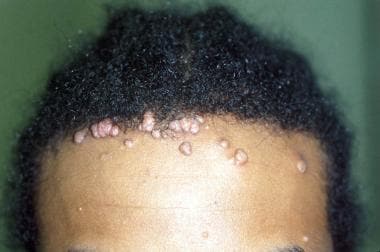 Molluscum contagiosum lesions in individuals infected with HIV may number in the hundreds. In addition, they may become quite large and prominent.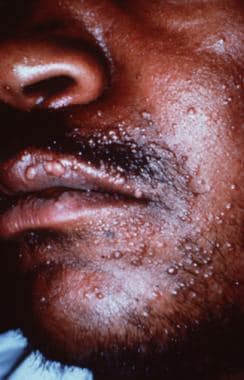 Multiple papules on the face of a man with HIV.
Case reports have detailed molluscum contagiosum eruptions in areas that were treated with tacrolimus 0.1% (Protopic). [4, 5, 6]
---
Did this answer your question?
Additional feedback? (Optional)
Thank you for your feedback!