Answer
Molluscum contagiosum is most common in children who become infected through direct skin-to-skin contact or indirect skin contact with fomites, such as bath towels, sponges, and gymnasium equipment. Lesions typically occur on the chest, arms, trunk, legs, and face. Hundreds of lesions may develop in intertriginous areas, such as the axillae and intercrural region (see the image below). Lesions may rarely occur on the mucous membranes of the lip, tongue, and buccal mucosa. The palms are spared. Patients with atopic dermatitis may develop large numbers of lesions.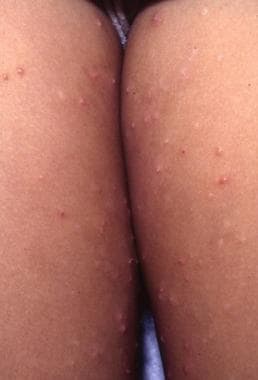 Molluscum lesions may become quite numerous in intertriginous areas. This child has autoinoculated lesions to both inner thighs.
---
Did this answer your question?
Additional feedback? (Optional)
Thank you for your feedback!