Answer
The molluscum contagiosum virus may be inoculated along a line of minor skin trauma (eg, from shaving), resulting in lesions arranged in a linear pattern (see the image below). This process, termed autoinoculation, can also result from manipulation of lesions by the patient. Autoinoculation is different from the Koebner phenomenon, which is also called an isomorphic response. In the Koebner phenomenon, new lesions develop along a line of trauma and the etiology of the underlying condition is unknown. Psoriasis and lichen planus are examples of skin conditions that commonly koebnerize.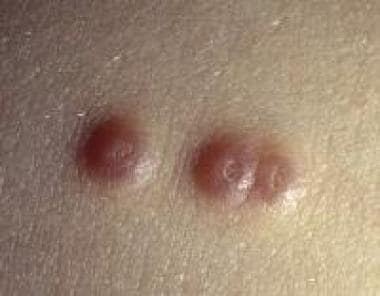 In a patient who had preexisting molluscum contagiosum, the virus was inoculated along a line of minor skin trauma, resulting in the development of the 3 new lesions.
Molluscum contagiosum virus transmission through direct skin contact between children sharing a bath and between athletes sharing gymnasium equipment and benches has been reported. An association between school swimming pool use and molluscum contagiosum infection has also been reported. [2, 3]
---
Did this answer your question?
Additional feedback? (Optional)
Thank you for your feedback!