Answer
Molluscum contagiosum virus causes a benign viral infection that is largely (if not exclusively) a disease of humans. Molluscum contagiosum virus causes characteristic skin lesions consisting of single or, more often, multiple, rounded, dome-shaped, pink, waxy papules that are 2-5 mm (rarely up to 1.5 cm in the case of a giant molluscum) in diameter. The papules, or bumps, are umbilicated and contain a caseous plug. Although treatment is not required, it may help to reduce autoinoculation or transmission to close contacts and improve clinical appearance. Intervention may also be indicated if lesions persist. Therapeutic modalities include topical application of various medications, radiation therapy, and/or surgery.
See the images below for examples. (See Presentation and Workup.)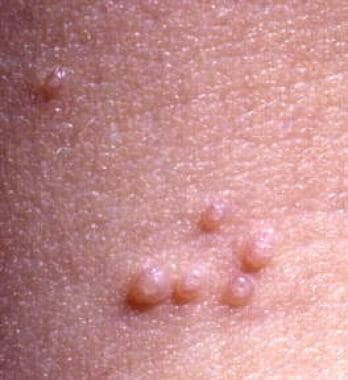 Note the central umbilication in these classic lesions of molluscum contagiosum.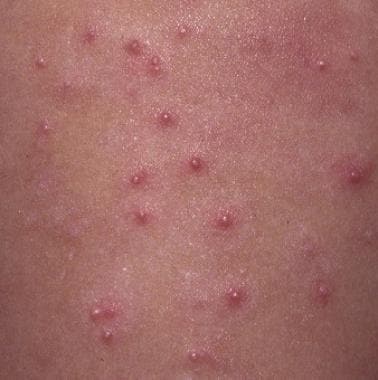 Molluscum contagiosum. Approximately 10% of patients develop eczema around lesions. Eczema associated with molluscum lesions spontaneously subsides following removal.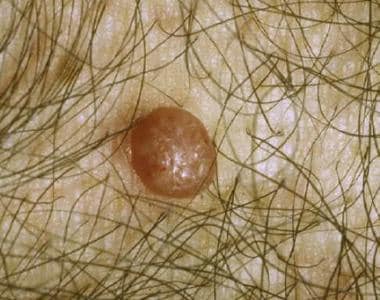 Molluscum contagiosum. Larger lesions may have several clumps of molluscum bodies rather than the more common single central umbilication. This may make them difficult to recognize as molluscum contagiosum.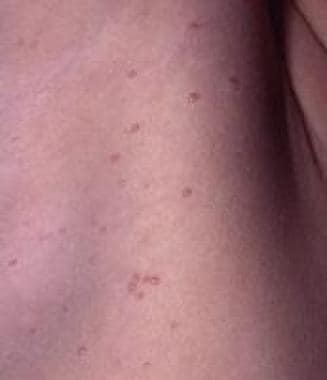 Molluscum contagiosum on the right axilla.
See 15 Rashes You Need to Know: Common Dermatologic Diagnoses and 20 Signs of Sexually Transmitted Infections, Critical Images slideshows, to help identify and treat various rashes.
Molluscum contagiosum virus is an unclassified member of the Poxviridae family. It cannot be grown in tissue culture or eggs; it has been grown in human foreskin grafted to athymic mice but has not been transmitted to other laboratory animals (see Etiology of Molluscum Contagiosum).
---
Did this answer your question?
Additional feedback? (Optional)
Thank you for your feedback!