Answer
Ingrown toenail (onychocryptosis) is a fairly frequent problem resulting from either growth of nail fold inwards into the nail bed or abnormal embedding of the nail plate into the nail groove, causing significant discomfort. Although often thought to be synonymous, the terms ingrown nail and paronychia refer to different conditions. Both can cause significant discomfort. Ingrown toenails may cause pain with ambulation. See the image below.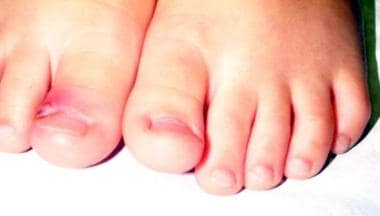 Right great toe paronychia in a 3-year-old child. Courtesy of Ann G. Egland, MD.
Retronychia is a rare variant of ingrown nail in which the nail plate is embedded into the proximal nail fold with subsequent inflammation of the proximal nail fold. [1]
---
Did this answer your question?
Additional feedback? (Optional)
Thank you for your feedback!