Answer
Electrocardiographic (ECG) findings in right bundle branch block (RBBB) reflect the underlying pathophysiology.
Transmission of the electrical impulse through the left bundle is normal, resulting in normal depolarization of the septum and left ventricle. This creates the initial R wave in lead V1 and the Q wave in V6.
The electrical impulse in the right bundle branch is delayed or not conducted. Therefore, the right ventricle depolarizes by means of cell-to-cell conduction that spreads from the interventricular septum and left ventricle to the right ventricle. This situation results in the characteristic ECG pattern shown in the image below.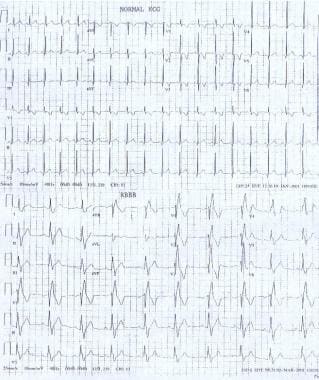 These electrocardiographs demonstrate a normal sinus rhythm and a sinus rhythm with a right bundle branch block.
Right bundle branch block has been noted to alternate with left bundle branch block and infra-Hisian block.
ECG findings necessary to confirm the diagnosis of right bundle branch block include those discussed below.
For complete right bundle branch block, the duration of the QRS complex is prolonged for the patient's age. Maximum QRS durations are 0.07 seconds for newborns less than 6 days, 0.08 seconds for patients aged 1 week to 7 years, and 0.09 seconds for patients aged 7-15 years. Most pediatric cardiologists require a QRS duration greater than 0.12 seconds to make a diagnosis of complete right bundle branch block.
An rSR' or rR' pattern, with the initial r wave less than the R' or r', may be seen in leads V1-V3R (see the image below). The initial R wave represents septal activation, the S wave represents left ventricular activation, and the R' represents activation of the right ventricle from the septum and left ventricle.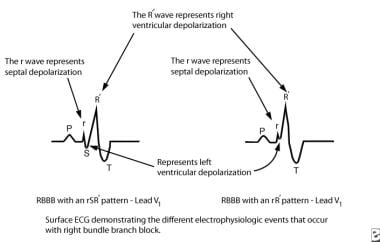 This image depicts the electrophysiologic events of right bundle branch block. AV = atrioventricular.
The S wave, which represents right ventricular activation, is wide in leads I and V6 (see the image below).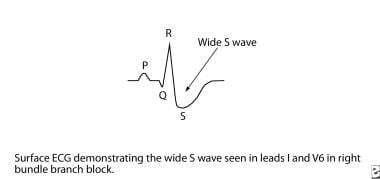 This image demonstrates a wide S wave.
The QRS axis may be normal, or right or left axis deviation may be present.
The T wave is almost always inverted in lead V1 and may be inverted in V2. In the other precordial leads and in the limb leads, the T wave is directed opposite to the terminal portion of the QRS complex.
In patients with atrial septal defects, the rsR' pattern, the so called "incomplete right bundle branch block," may be seen and is thought to be due to right ventricular volume overload. The QRS duration is usually less than 0.10 sec.
---
Did this answer your question?
Additional feedback? (Optional)
Thank you for your feedback!