Answer
Spontaneous resolution of congestive heart failure (CHF) symptoms is rare. Surgical revascularization of the left coronary artery system is usually necessary. Once the patient is stabilized, perform surgical revascularization to create a two–coronary artery system. Over the years, various techniques for this have been advocated.
Ligation of the left coronary artery at its origin from the main pulmonary artery is an original technique, performed without the use of cardiopulmonary bypass. However, this surgical option is no longer recommended: The long-term results were not optimal since myocardial perfusion remained solely dependent on extensive collateralization from the right coronary artery, and the patient remained at risk for ischemic episodes and sudden death.
Current surgical procedures are directed at establishing revascularization by creating a two–coronary artery system via either (1) a left subclavian artery-coronary artery anastomosis, (2) a saphenous vein bypass graft, (3) Takeuchi procedure (creation of an aortopulmonary window and an intrapulmonary tunnel extending from the anomalous ostium to the window), or (4) direct reimplantation. [17] By establishing a patent two–coronary artery system, most patients experience normalization of left ventricular systolic function, thereby improving long-term survival.
The need for simultaneous mitral valve reconstruction, in the presence of severe insufficiency, is controversial because spontaneous improvement of mitral valve function often occurs following surgical revascularization.
Once revascularization to a two–coronary artery system is accomplished, most patients demonstrate improved left ventricular systolic function, decreased mitral valve insufficiency, and resolution of CHF symptoms. In many cases, the classic infarct pattern on electrocardiography eventually disappears following normalization of left coronary blood flow (see the image below). Occasionally, persistent refractory mitral regurgitation will necessitate delayed mitral valve repair or replacement.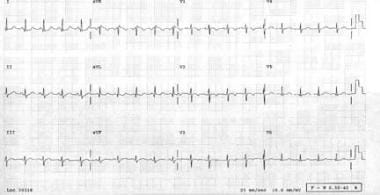 Electrocardiogram in 2-month-old infant with anomalous origin of the left coronary artery from the pulmonary artery 17 months following successful surgical revascularization, demonstrating complete resolution of the anterolateral infarction pattern and ST-T wave changes.
A study of 23 infants indicated that in patients with anomalous left coronary artery from the pulmonary artery (ALCAPA), aortic reimplantation of the anomalous coronary artery is an effective means of improving myocardial function but is a less effective tool for treating severe mitral valve regurgitation. In 16 infants, the anomalous artery was directly implanted into the ascending aorta, while the seven remaining patients underwent repair with a trapdoor flap or tubular extension technique. The investigators evaluated left ventricular function and degree of mitral valve regurgitation over a 10-year follow-up period. Four of the patients died early in the postoperative period (within 12 days after surgery), but improvement in myocardial function was seen in all of the remaining patients. However, of five infants diagnosed preoperatively with severe mitral valve regurgitation, only one demonstrated improvement in this condition; two patients required mitral valve replacement. [18]
In another study, a comparison of coronary transfer and Takeuchi repair (intrapulmonary tunnel) revealed equal improvement of left ventricular function and resolution of mitral valve regurgitation in both groups. [19] However, patients undergoing the Takeuchi technique developed significant pulmonary regurgitation, whereas those that had coronary transfer did not develop this complication. [19]
---
Did this answer your question?
Additional feedback? (Optional)
Thank you for your feedback!